Mama's Family 1x4
The Wedding (2)
The day of the wedding is at hand, and Vint and Naomi are ready to tie the knot. While Eunice still wants to sing her solo, she first asks Vint who says she'll have to talk to Naomi about it. Mama then gives Vint his daddy's ring as a wedding present, problem is Eunice thinks it's her ring, because Carl always wanted her to have it. While Naomi is getting ready she shows Eunice the ring, saying it's something blue and she prepares to wear it around her neck.
Vint and Naomi say their vows and Eunice, who is already upset at Mama for giving her ring away and has had a few to many beers, prepares to sing her solo in front of the whole crowd. She starts yelling at Mama half way thru about the ring and Mama yells back and it turns into a free-for-all, with Eunice insulting everyone and eventually Ed has to carry out.
Later,Mama and Fran sit on the couch, and enjoy the peace and quiet that they now have. Vint (who decided to take the kids afterall), Naomi, and the kids have left for Arizona.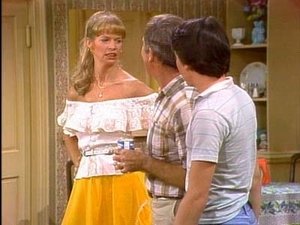 Feb. 12, 1983